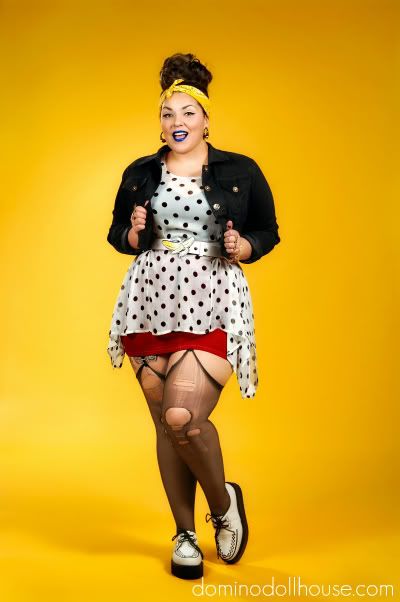 Lets talk business, about filling a gap in the market, about Domino Dolhouse dresses hanging neatly in the closets of fat betties with pink hair and cat eyeliner who used to shop at Torrid before Torrid went the way of Trendy Fashionista (god i hate the word fashionista).  I just love it when I hear tough chicks lamenting the days of early Torrid then in the same breath saying "thank GOD for Domino Dollhouse".  
Sure,  Tracy Broxterman's timing is spot on, catering to the girls that madeTorrid and Hot Topic one of the fastest growing fashion retailers of the first decade of the new millenium, but it's her sincerity that makes the line special.    Mixing vintage, pin up, a dash of goth and a dollop of chola, Domino Dollhouse is one of the few true fashion experiences for plus size betties, giving them a chance to wear a designer's point of view rather than a homogenized shopping mall brand loyal only to what's selling at the moment.  I hope all you plus-size designer hopefuls  out there take a cue from Domino Dollhouse and make what you love.  Not just what a trending report tells you to make.
With that said, I found this super cute dress at Torrid and I gotta say
"KUDOS, TORRID!"  you must have read a trending report or two cuz this
GEOMETRIC -TRIBAL pattern is both WHIMSICAL and BOLD!
love
nati